Newsroom
Rotary kiln tyre cast steel material
2020-05-20 | Editor:
Rotary kiln tyre
is also called rolling ring or riding ring, which is one of the main components on the rotary kiln. The kiln tyre must have sufficient strength, durability amd rigidity.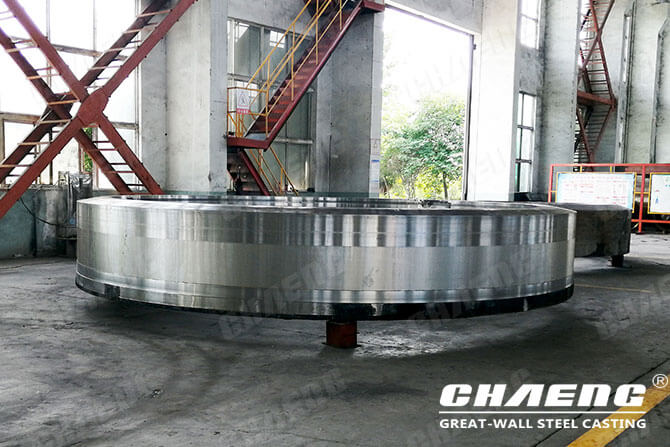 Through the unremitting efforts of the technical team, CHAENG have improved the casting process of rotary kiln tyre to greatly increase the service life.
Advantages of CHAENG rotary kiln tyre:
1.The CHAENG rotary kiln tyre has high strength and good durability.
CHAENG uses ZG45 and ZG42CrMO material, which can guarantee the strength and toughness of rotary kiln tyre, so as to play a better supporting role.
2.The rotary kiln tyre are treated with an advanced dual-media quenching process during the casting process, with strong adaptability
CHAENG adopts advanced two-medium quenching process to process uniformly every part of rotary kiln tyre, so that CHANEG rotary kiln tyre has high hardness and high toughness and good wear resistance, can adapt to a variety of harsh working environment.
3. Simple structure, easy for routine maintenance.
4. CHAENG can produce rotary kiln tyres of various specifications according to the customer's drawings.
The optimized technology and excellent quality can ensure that rotary kiln tyre produced by CHAENG matches well with the original rotary kiln equipment.
Customer case
CHAENG provided
rotary kiln supporting rollers
and tyres for Mengdian Group's φ4.0 × 60m rotary kiln. The key parts of the rotary kiln tyre can reach the level-II flaw detection standard, which made the customer rave about CHAENG, and said that they would choose CHAENG again for rotary kiln tyres and support rollers in the future.
Order online
Fill out your message and submit it . Options with
*
must be filled in.
Prev:CHAENG ball mill head images & advantages
Next:The Last One
CONTACT
Tel : +86-371-55019878
Fax : +86-371-55019608
Skype : GreatWall1958