Newsroom
Girth gear factory CHAENG puts quality first
2022-05-05 | Editor:
Xinxiang Great Wall Casting (CHAENG) can provide high-quality big
girth gears
for ball mills, rotary dryers and rotary kilns according to users' drawings and requirements. The big girth gear drives the whole pipe body to run for a long time. Therefore, in actual production, the quality requirements of large gears are very high. The company has advanced casting, machining and testing equipment, and has established a strict quality management system to control every link of the manufacturing process to ensure the high quality of large gears.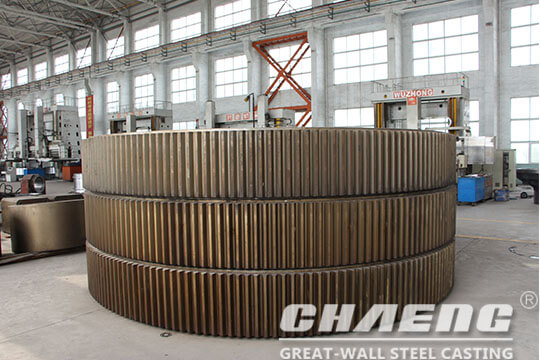 1. CAE software is used to simulate the filling and solidification process of castings, so as to optimize the casting process.
2. Professional heat treatment process to improve the hardness, wear resistance and impact resistance of the girth gear.
3. Professional machining technology to ensure the dimensional accuracy.
4. Sandblasting and shot blasting equipment effectively improves surface quality.
5. A scientific production management system to ensure the product quality and delivery time required by customers.
6. Complete inspection system to ensure quality: chemical composition, mechanical property, dimensional check, ultrasonic testing (UT), magnetic particle testing (MT), penetrant test (PT), etc.
Order online
Fill out your message and submit it . Options with
*
must be filled in.
Prev:What inspections should be done on the internal quality of steel castings
Next:The Last One
CONTACT
Tel: +86-371-55019878
Whatsapp: +8618737831240
E-mail: casting@chaeng.co
Skype : GreatWall1958