Achievements
CHAENG upper and lower crossbeams for ceramic press exported to Italy
2017-08-25 | Editor:
Product: Upper and lower crossbeams for ceramic press
Product Material: ZG270-500
Weight: 10-70t
Application: Ceramic machine, press machine
Exported to: Italy
The upper and lower
crossbeams for ceramic press
are the main accessories of the ceramic machine and the press machine. The upper and lower beams of the Great Wall Steel Casting are processed by reasonable technology. After being appraised by the experts at all levels, the beams are proved that the bearing capacity is large, the structure is unique and the quality is good. CHANEG beams is good option for press machine, ceramic machine, currently widely used in the well-known Chinese press machine manufacturing process, and exported to Italy and other countries.
Italian ceramics is world-famous and known as the "wind vane" of world's ceramic tiles. SACMI company, a large ceramics manufacturers in Italy, purchased base frame and movable beams from Great Wall Steel Casting, and spoke highly of their good quality and fast delivery time.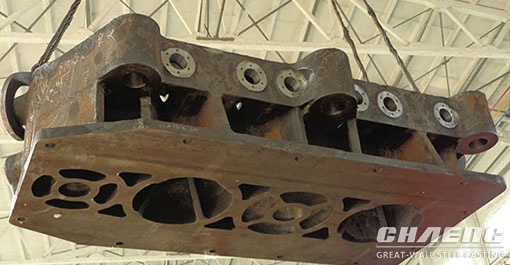 Order online
Fill out your message and submit it . Options with
*
must be filled in.
Prev:CHAENG steel castings projects for forging equipment
Next:The Last One
CONTACT
Tel : +86-371-55019608
Fax : +86-371-55019608
Skype : GreatWall1958