METALLURGY & FORGING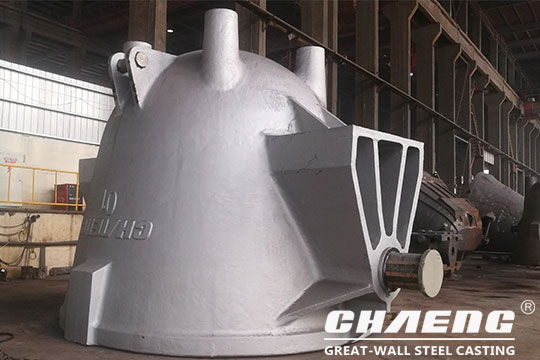 Slag Pot
| | |
| --- | --- |
| Weight | 1-150T |
| Material | ZG230-450 plus RE etc. |
| Application | Blast furnace, iron & steel works |
| Customizable | Yes |
Introduction
Slag pot (slag ladle) is important device in steel making It is a load-bearing device to collect molten or solid slag generated during metallurgical or chemical processes CHAENG (Great Wall Steel Casting Co , Ltd) makes continuous technical innovation in casting process, and CHAENG slag pot has more advantages such as short cast period, long service life and strong resistance to deformation We can manufacture slag pots according to usres drawings
Advantages

CHAENG slag pot design:
Our slag pots are available with the finished weights range from 1 – 150 tons. Our facilities have the capability to cast pots in nearly every shape and style for a variety of mounting systems and methods of transport.
Every slag pot we produce is designed and engineered to meet specific and critical custom specifications. Our expert engineering and casting technicians are committed to working with you to suggest modifications that reduce cost and extend pot life through improved efficiencies.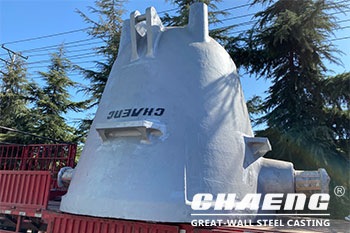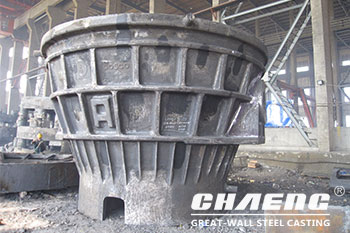 Main selling points:
1. Many international large steel companies choose CHAENG slag pots:
CHAENG slag pot is the common choice of many large world-renowned steel enterprises, such as Mittal, Tata, Taiwan Zhong Hua Iron& Steel Company, and so on.
2. Strong durability:
According to operating conditions, CHAENG engineers adopt suitable material, customize and optimize the casting technology. That will make the slag pot have the performances of excellent high temperature mechanical properties, good thermal cracking resistance, stable manufacturing process and so on.
3. Longer service life:
CHAENG slag pot's usage frequency can reach 6000 times, its first maintenance can be done 2-3 months later than similar products from other manufacturers, and it enjoys a longer service life.
4. Good appearance:
CHAENG is quite skillful at shot blasting and sand blasting to ensure the good appearence of slag pot and improve paint adhesion.
5. All-around nondestructive testing
CHAENG perfroms all-around nondestructive testing to avoid defects.

Manufacturing process:
Except the supply of the forgings for trunnions and the engineering of the pattern, all further operations
are carried-out at the in-house foundry plant.
• Moulding
Sand moulding.
• Trunnions
The trunnions - when any - are preferably cast-in: they are as a rule manufactured from the steel material S355 J2G3 to DIN EN 10250-2.
• Melting
The melting is carried out in the oxygen steel plant; the ladle capacity allows a continuous bottom pouring process the speed of which is permanently controlled. The metal analysis is checked by using a computer linked spectrograph.
• Heat treatment
- heating to a temperature above AR3, austenitising at about 915°C and controlled cooling in furnace
- intermediate holding at 600°C - 630°C and completion of cooling in furnace down to 300°C
• Fettling and dressing
The inner surface is processed fit-for-purpose so that the surface discontinuities - which might cause some sticking of the slag - are extensively removed. Additionally, the castings are descaled by shotblasting and the outside is additionally coated for transportation.
Process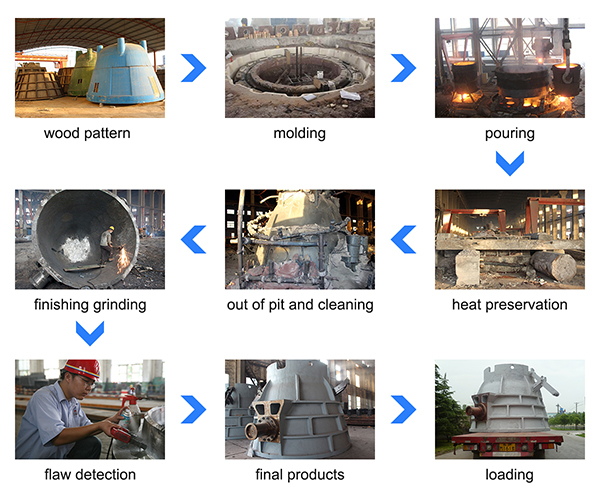 Case
On July 18, 2008, CHAENG signed the first contract of slag pot, under the situation of financial crisis and shrinking market, on the same year on December 12 we signed 13 pcs of slag pot with South Korea's posco, since 2008 we have signed the contract of more than 50 types of slag pot, and produce 287 pieces of casting process, "they" are exported to countries around the world: the United States Mittal, Germany, Italy, India's TATA steel company, Japan Chiba, Canada, Taiwan, South Korea, the United States, Mexico, Canada and other overseas countries.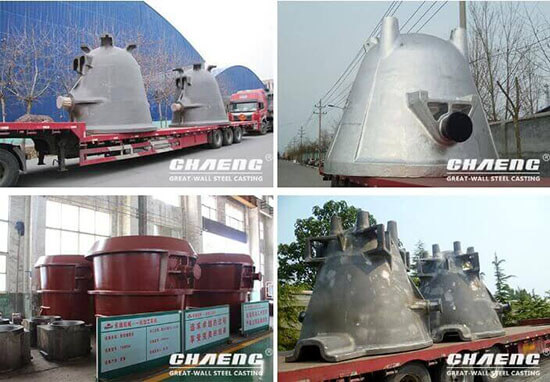 If you want to learn more about the projects, please look at project achievements of slag pot.
Order online
Fill out your message and submit it . Options with
*
must be filled in.
CONTACT
Tel: +86-371-55019878
Whatsapp: +8618737831240
E-mail: casting@chaeng.co
Skype : GreatWall1958