Newsroom
Great Wall Casting was evaluated as Henan Provincial Intellectual Property Advantage Enterprise
2023-01-04 | Editor:
Recently, the Henan Intellectual Property Office announced the 2022 Henan Provincial Intellectual Property Powerful Enterprise Record List. CHAENG (Xinxiang Great Wall Casting Co., Ltd) was rated as the "2022 Henan Provincial Intellectual Property Advantage Enterprise" by virtue of its influence in the industry and outstanding advantages in intellectual property rights.
Enterprise with Intellectual Property Advantages is an honor bestowed on the creation, utilization, protection, and management of intellectual property rights, and it is also a high recognition and evaluation of the intellectual property management work of enterprises.
As a professional leader in the foundry industry and a national high-tech enterprise, Great Wall Cast Steel has consistently adhered to technological innovation as the guide and product quality improvement as the source of power. Up to now, Great Wall Cast Steel has obtained more than 50 invention patents and utility model patents.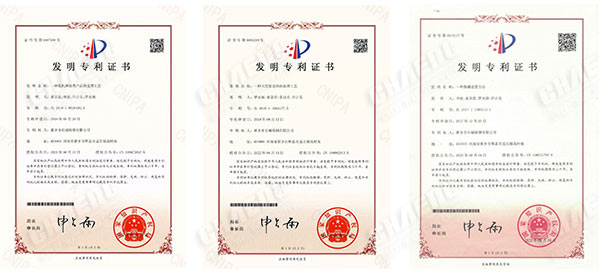 Being recognized as an intellectual property superior enterprise in Henan Province is another important achievement of CHAENG's intellectual property work. In the future, CHAENG will take the construction of a strong intellectual property country as a guide, and actively apply scientific and technological innovation and patented technical achievements to more products and services, to drive the transformation and upgrading of the company, enhance the core competitiveness in key technical fields, and promote the high-quality development of the equipment manufacturing industry.
Order online
Fill out your message and submit it . Options with
*
must be filled in.
Prev:Sprint at the end of the year to ensure on-time delivery
Next:CHAENG won the honorary title of "Excellent Private Enterprise in Xinxiang City"
CONTACT
Tel: +86-13071023171
Whatsapp: +8613071023171
E-mail: casting@chaeng.co
Skype : GreatWall1958