Achievements
The Great Wall casting large swing jaw frames exported to Russia are concerned greatly
2015-04-09 | Editor:crusher jaw plate manufacturer
Product Name: Swing Jaw
Purchase client: one Russian company
Producer: Xinxiang Great Wall Casting Co., Ltd.
Application equipment: Large Jaw crushers
Purchase date: 2014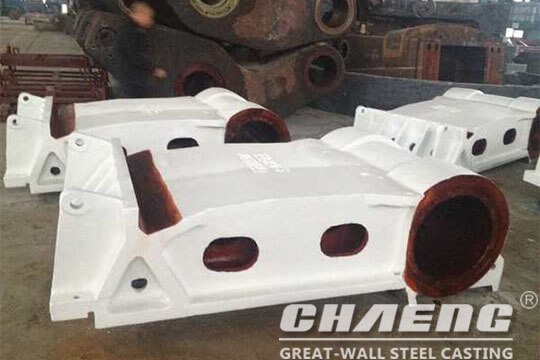 Swing jaw is the main component for the large jaw crushers which are widely applied in the mine, chemistry, cement, steel and iron industries.
While Summing up its own experience in casting, the Great Wall Casting company is continuously improving the process and technology, at present it is the domestic leading level in design and production of the large swing jaw components.
This year the reliable quality of the large swing jaw components made by Great Wall Casting company attracted Russian customers to visit our company, after the field investigating they regarded that the swing jaws of Great Wall Casting company have better quality and longer service life which are able to meet their design request for the Russian large jaw crusher, therefore, our Russian customers finally signed the continuous staging order with Great Wall Casting Company.
Depending on the strong foundry capacity and technology, The Great Wall Casting Company submitted a satisfactory answer to the Russian customers with the shortest lead time.
At present The Great Wall Casting is still innovating, the new technical project of the biggest swing jaw casting part in China is being implemented with simulation and demonstration.
Order online
Fill out your message and submit it . Options with
*
must be filled in.
Prev:World Steel-Mittal Group Signed Long-term Slag Pot Supply Contracts with Great Wall Casting
Next:Walking Beam Is Highly Welcome in Italy Ceramic Company
CONTACT
Tel : +86-371-55019608
Fax : +86-371-55019608
Skype : GreatWall1958